"OMG SO MANY GREAT BANDS!"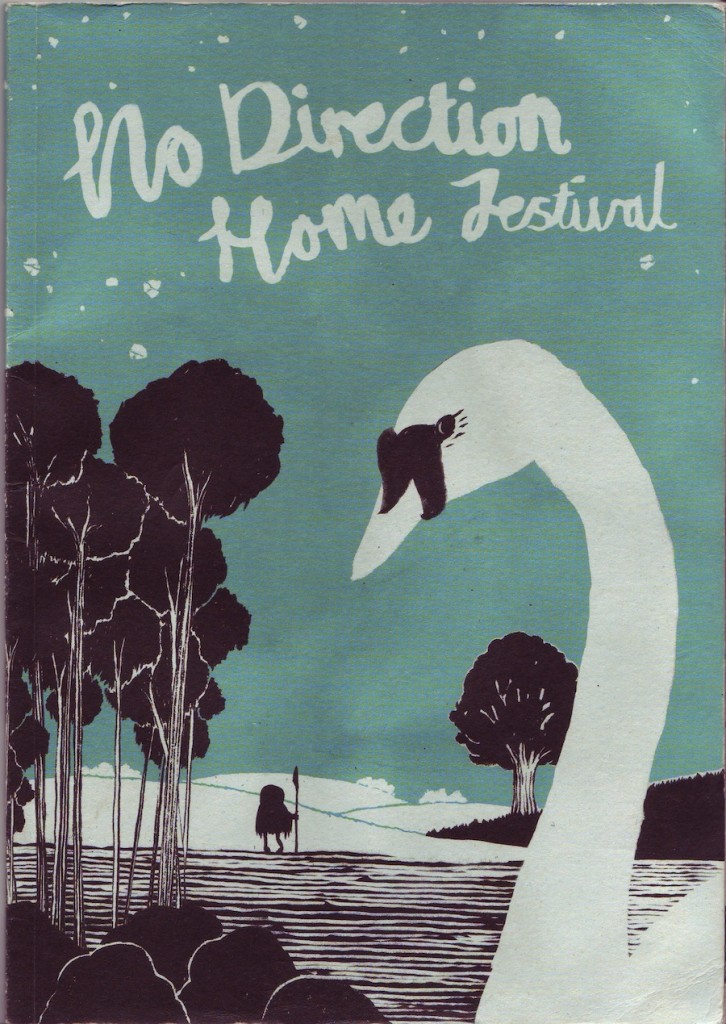 I somehow stumbled across the existence of No Direction Home Festival about a week before the gates opened, fell in love with the lineup (Rachael Dadd, Wave Pictures, Laish, Veronica Falls) and felt the familiar craving to be out in a field in beautiful sunny surroundings with a pint of cider and a band playing.

Problem: at such short notice, none of my potential festivalmates with conventional jobs would be able to take the Friday off work (I don't work on Fridays anyway) and none of my friends with less conventional jobs had the money, time or inclination.
At 10pm the night before, encouraged by one of my flatmates, I decided to go on my own.
Solo.
Unaccompanied, unescorted and unassisted.
I left the house at 10am with no train, bus or festival ticket, and actually everything worked out pretty damn well.
There's a somewhat glib, new-agey concept at the centre of love-it-or-hate-it novel The Alchemist, that when you really decide to do something, the Universe helps you to make it happen. Say what you like, I've found it to be true: commit to a slightly scary course of action and open yourself up to possibilities and good things will happen (I landed my most recent two jobs that way).
First spot of luck: as a new festival it wasn't sold out, so I found someone on Facebook selling a ticket of a friend who couldn't go, for well under half price.
Second spot of luck: a friend's sister was on the same train as me – the three siblings were all going to be there, working or helping out in various capacities. I didn't end up spending much time with them, but familiar faces are always a plus.
Third spot of luck: with nowhere to shelter in the downpour and my ticket stuck in traffic there was nothing for it but to pitch the tent (Vixen) as quickly as possible. Vixen is an old friend, but has the ludicrous quirk of requiring here inner to be erected before the outer.
Luckily I met Louis – who runs the Sci-fi London film festival – and he kindly let me set everything up under his gazebo while he constructed of a small tented empire (complete with flagpole) for his wife and 2 kids who were sheltering in the car.
Now I should say, going to a festival solo is, for me at least, maybe not as big a deal as it might sound: when I go to festivals with a group, particularly when everything is focussed on the music, I tend to wander off on my own, either because nobody shares my musical taste, or because I care more about being immersed in the atmosphere up near the front.
At gigs, for me it's not at all important to have people around while the music is playing, though it is great to have someone to chat to in the breaks. At festivals the music is continuous across different stages, and frankly trying to arrange to meet up with people and coordinate conflicting plans is a pain I can happily live without.
It's also much easier to chat to new people – and having an exemplary handlebar moustache is a great icebreaker in that regard. People at festivals (or maybe just outside London) are also much more open to sharing a smile, rather than pretending the crowd doesn't exist.
On the Saturday a couple of people grabbed me as I was walking past to tell me that the bold officers of The Secret Post Office were seeking me out and had a letter for me. I trundled over to their little post office and received the following charming letter: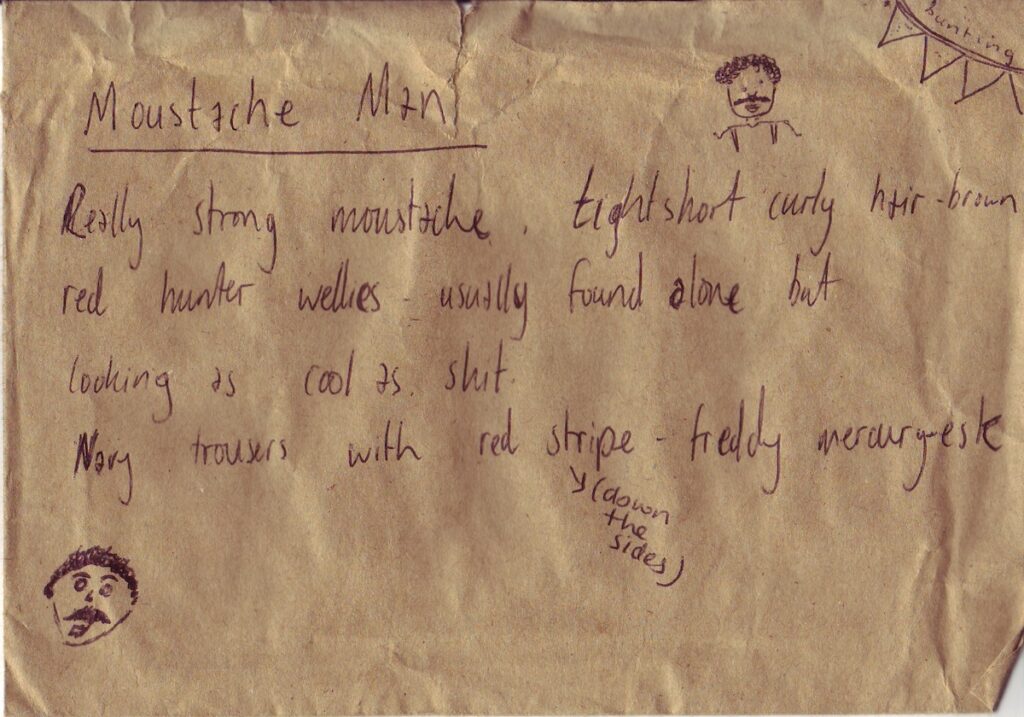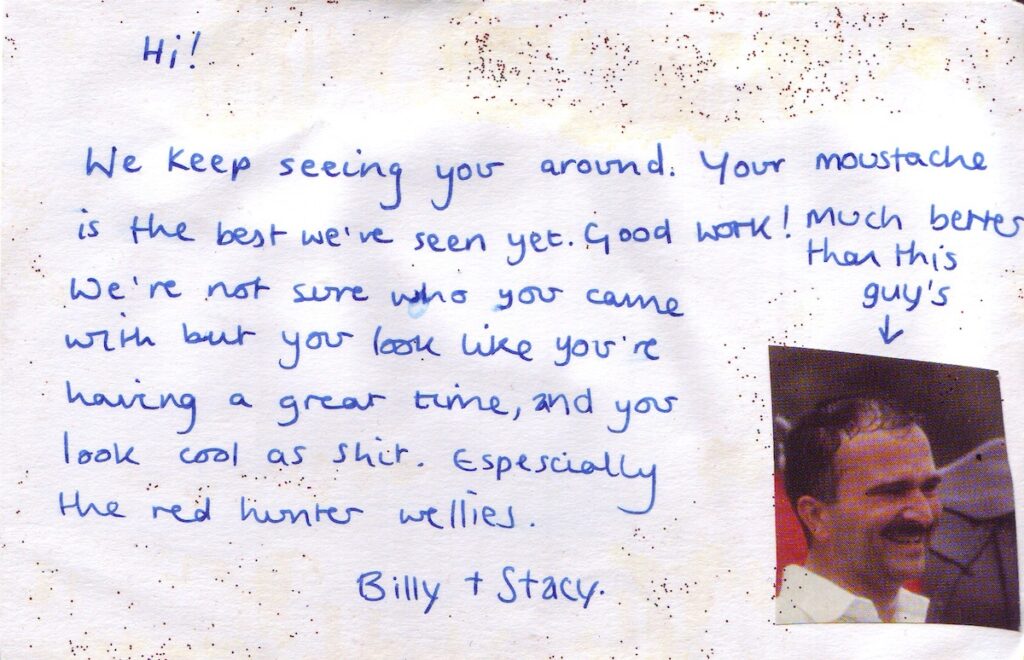 I didn't bump into Billy and Stacy personally, but if you're out there, thank you.
EDIT: I'm not the only person who got fan mail – my friend's sister got some too!
All in all a great weekend: saw some great bands I already love, discovered a few new awesome ones (Dirty Three, Diagrams), laughed a lot in the Comedy yurt, heard stories in a bell tent and saw a Seriously surreal Czech coming-of-age vampire(ish) film in the wee hours.
The festival was a really nice size, the site was utterly beautiful (the bus ride in, through an endless lushy green forest speckled with pink and purple rhododendrons was particularly magical), everything ran Amazingly on schedule and the weather, though rotten on Friday was beautifully sunny on Sunday. I got back into a rainy London via an early bus, ready for work on Monday.
I definitely wouldn't go to just any festival, on my own (it needs to have the right combination of size, content and people), but I'm really glad I didn't let fear of flying solo stop me from going to this one.